SKD-BE830L-ESD
0.98-2.94 NM (8.67-26.03 IN-LBS) 1000RPM - BRUSHLESS DRIVERS WITH INTERNAL COUNTER
Share this: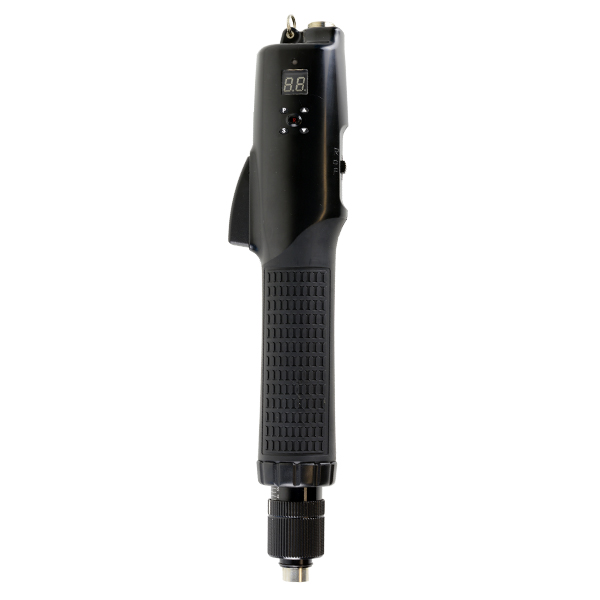 Features:
Batch count value can be set from 0-99 screws/batch. Screwdriver will count down by one each time a good fastener rundown is completed.
LED display shows the current screw count value and displays the available options and setting values during programming mode.
Programming buttons are located on the driver directly below the LED display. Buttons are used to set-up parameters prior to using the screwdriver for assembly. Programming mode can be locked by pressing a pre-set combination of buttons to avoid accidental program changes.
'Clear' button allows the count to be manually reset to begin a new batch.
Min and Max rundown time settings allow the user to establish an acceptable time window for fastener installation. Only fastener rundowns which occur within the specified window will be accepted as good (OK) and cause the count to increment. Rundowns completed outside the time window will be considered no good (NG). This might occur if the screw was cross-threaded (time too short-below min time) or stripped (time too long-greater than max time).
Visual and audible indicators are available to let the operator know if the rundown was OK or NG, and when the batch has been completed.
Screwdrivers can be hard-wired with addtional output signal cable (included in box) to output rundown status (NG/OK Batch) to a PLC.
ESD Safe Housing.
Weight: 820g / 1.8 lbs
Manuals
Catalog
Accessories
SPECIFICATIONS
| Specification |   |
| --- | --- |
| Range Nm | 0.98-2.94 |
| Range In.Lbs | 8.67-26.02 |
| Speed (rpm) | 1000 |
| Power Consumption | 90W |
| Start Type | Lever |
---
| Power Supply |   |
| --- | --- |
| Models | SKP-40BHL |
---
Optional Accessories

Model
Torque Fixing Ring
Torque Adjust Tool
Suspension Rack
Spring Balancer
SKD-BE8-(non-ESD)
KC-7C
KW-1
KH-2
KL-1200
SKD-BE8-(ESD)
KC-7S
KW-1
KH-2
KL-1200
---
Replacement Tool Cables (2M Cable Included with Driver )

Model

2m
3m
3m coiled
6m
AA50001-16
AA50001-44
AA50001-105
AA50001-45