SKC-PTA-220
8-22 NM (70-194 IN-LBS) 350/200RPM - CORDLESS SHUT-OFF CLUTCH SCREWDRIVERS
Share this: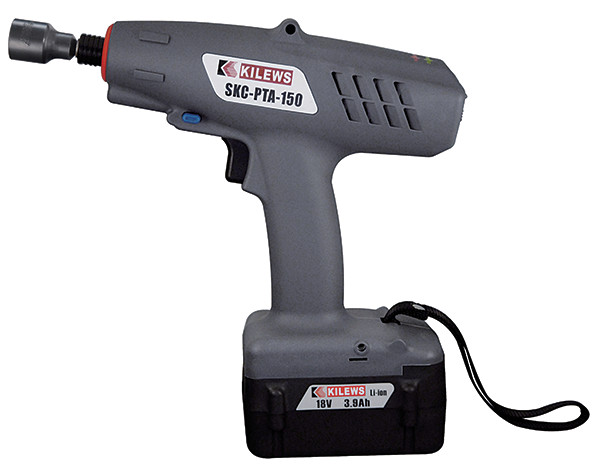 Features:
Precise Shut-off Clutch provides excellent repeatablilty.
Hi/Lo Speed Selection switch on screwdriver.
High Performance 18VDC Li-ion Batteries (purchased separetely).
Slide Switch for selection of Forward/Reverse rotation;clutch operates in CCW direction at approx. 30% higher torque level than CW setting.
Versions available with either internal or external clutch adjustment.
Green/Red LED's and audible indicators alert operator of proper clutch function at shut-off. A green LED and short beep confirm that the tool has shut-off correctly, a red LED and long beep signal confirms an incorrect cycle.
To conserve battery life, the screwdriver goes into sleep mode when idle for more than 3 seconds.
Front facing LED illuminates fastening area when the trigger is pulled.
Charging station (purchased separately) provides quick recharge time.
Manuals
Catalog
SPECIFICATIONS
| Specification |   |
| --- | --- |
| Range Nm | 8-22 |
| Range In.Lbs | 70-194 |
| Speed (rpm) | 350-200 |
| Dimensions L x H (mm)(in) | 224 x 200mm / 8.8 x 7.9in |
| Weight (kg)(lbs) | 1.2kg/2.6lbs (less battery) |
---
| Applicable Batteries/Chargers |   |
| --- | --- |
| Models | |